---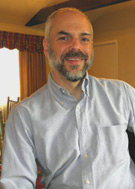 News from the Club President
Fellow Rotarians,

For a while, I was seriously concerned. All the other (and I do mean all) large stores in town had turned us down in our quest for a spot to set up our donation pot and ring our bells for winter heating assistance. With near dread, I dropped off some pictures of previous bell ringing days and a request letter at the new Ocean State Job Lot. Imagine my relief when I stopped back a week later and was greeted by the store manager who said we would be more than welcome to set up in our usual spot!

To tell the truth, my relief was that you all would NOT be chasing me out of the country club parking lot with pitchforks and torches. Bell ringing for fuel assistance is our most visible community service, and when I was asked to take it over, certain members implied that bad things would happen to me if it was not executed flawlessly. My badge would be stolen from the suitcase and defaced with frowning faces. I would mysteriously be fined at every meeting for wearing the wrong color socks or not singing Happy Birthday poorly enough. I would be traded to the Catamount Club for Mary Morrissey.

I knew that I got a pass last year. The closing of JC Penney and a global pandemic seemed to be enough to keep "the enforcers" at bay. But this year there was no excuse. Fortunately, the good people of the Ocean State Job Lot saved the day, and we are fully back in business. And I am still in the club. For the new members who have yet to participate, it's actually a very worthwhile activity. It's great to see people donate who tell us that they had benefited from BROC's heating assistance in the past and want to give back. And seeing Bennington's youngest citizens come up with a handful of change while their parents look on is truly heartwarming.

Best of all, our donations are doubled by Green Mountain Power, and 100% of our combined funds go to BROC heating assistance in Bennington County.

I'll be giving the pot and tripod a new coat of Rotary Blue paint, and a new sign is in the works as well. And I still have those great ergonomic rubber mats that transformed the experience from painful to completely tolerable.

I'm really hoping that as many members as possible will participate this year. With zero overhead and GMP doubling our money, this is one fundraiser that has absolutely no downside. And if you do trade me to the Catamounts for Mary Morrissey, at least negotiate to have them throw in Ron Hausthor as a bonus!


Yours in Rotary Service,
Dana Rozycki
Club President