---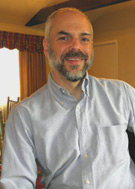 News from the Club President
Fellow Rotarians,

Welcome to 02022. That's not a typographical error. The writer Stuart Brand suggested writing the date as "02022" rather than "2022" to help us get used to long-term thinking. Very long-term thinking.

Will there still be a Bennington Rotary Club in the year 12022? Maybe. But we do know there'll be a Bennington Rotary this year, and hopefully in another 20, 50 and 100 years.

As we move into the new year, let's think about a few of the many ways that we've been paving the way for our club to continue to thrive on into the future.

First, we welcomed a number of new members in 2021. Nancy Koziol, Dan Cross, John Gagnon, Dr. Gerald Rogo, and Fredericka Cuenca, all joined us this year. We also were able to get back to bell ringing for BROC's home heating assistance program thanks to the very helpful management of the Ocean State Job Lot. We raised $2,866, which Green Mountain Power will double to $5,732.

This year saw the return of the Interact Club at MAUHS. Interactors enthusiastically took part in events such as the Superhero 5K breakfast and bell ringing. These future leaders are key to the continued existence of service clubs, and it has been inspiring to see how quickly they stepped up to work with us. We also started working with other community organizations such as UCS and the VFW. A new partnership with the Elks Lodge should be finalized very soon, allowing us to continue meeting in a welcoming space now that our time at the country club has come to an end.

All of these will keep us moving forward in our mission of "service over self" not just for the coming year, but for decades to come.

Of course, none of these things happen without the ideas and energy which everyone brings to the club. It's great to see so much engagement. Keep writing guest columns, bringing in speakers, recruiting new members, and offering suggestions for new paths for service. If we continue with the same energy as we had this past year, our club will be in very good shape. Thanks, and I look forward to seeing everyone in 02022 and beyond.


Yours in Service,
Dana Rozycki
Club President